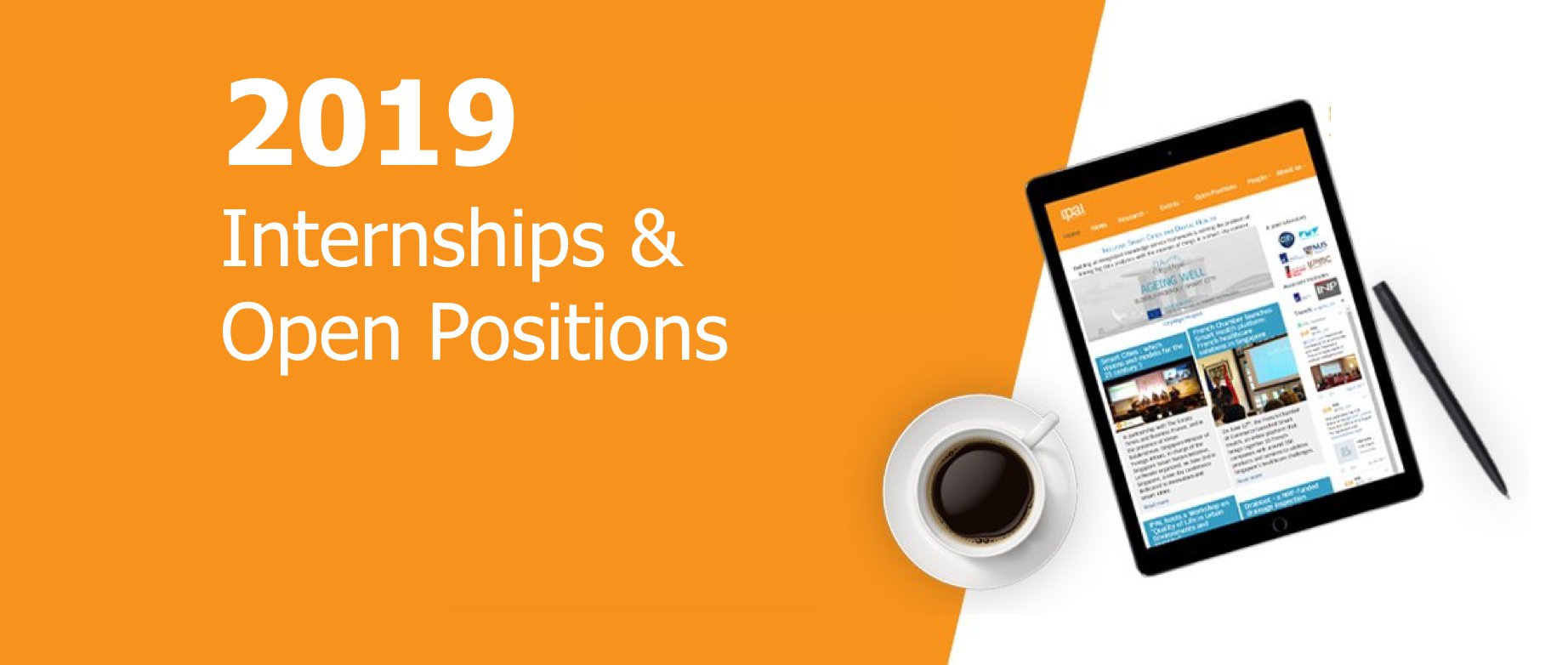 2019 Open positions:
2019 Internships:
Towards ageing-well through trusted intelligent systems based on AI, IoT and Formal Analysis
Android development of urban mobility app using Fitbit and environment APIs (app implementation, analysis, reasoning)
Front and back-end dev and data analysis Node.js (Machine learning, IoT for health, on site validation)
Software IoT architecture (refactoring, optimization of platform to enhance large-scale deployments)
Web-based visualisation of GeoJSON (interactions in WebGIS environment)
Continuous and nonintrusive vital sign monitoring using optical fibre sleep mat (machine learning, sleep cycles data analysis) in collaboration with Khoo Teck Puat Hospital (KTPH) and Singapore University of Technology and Design (SUTD)
Get to know more:
Scientists worldwide are welcome to join our challenges! IPAL provides great opportunities to researchers and students from all nationalities who desire to blossom in an excellent international research laboratory. We are committed to provide a unique platform for candidates to begin research and develop their skills in a top-ranked university fully supported by distinguished and world-renowned researchers from Singapore and France.
CNRS and Universities mobility: If you are already a researcher working for the CNRS, we will be very honored to welcome you in our laboratory. Please have a look at the CNRS website for the procedure, do come in touch with us to prepare a joint ambitious projects, able to boost your carreer, and do not hesitate to contact us for further assistance: CNRS Mobility website
Singapore, a high-tech and world-class scientific environmentIn a very competitive scientific environment, surrounded by dynamic and talented scientists and supported by one of the best basic and translational research infrastructures worldwide, working in Singapore is a valuable experience. In partnership with the National University of Singapore and the Agency for Science, Technology and Research institutes, world-class scientists from all major scientific centres in the world, are exchanging and sharing with us all year long, generating a prolific scientific osmosis.
Open PhD Positions and Regular PhD applications: In order to work with IPAL, you need to come in touch with one of our staff during your first year. Please look at our research goals, axes, projects and publications and you will quickly understand what competencies we will always welcome. Don't hesitate to contact us if needed. Beside the open position(s) above, a regular submission can be done via the graduates portal NUS, School of Computing, Computer Science Dpt. or NUS, Faculty of Engineering depending on your profile. See also the PhD Programme at NUS School of Computing. Another possibility to get a NUS degree at IPAL is to go for the SINGA - Singapore International Graduate Award programme or the ARAP - A*STAR Research Attachment Programme both funded by A*STAR, with a graduation through NUS in the case of IPAL. Last but not least, regular applications can be done via the EDITE doctoral scool (Informatics, Telecommunications and Electronics) of the University Pierre and Marie Curie, Paris, France or the Doctoral School for Computer Sciences, Applied and Pure Mathematics (MSTII) of the University Joseph Fourier, Grenoble 1, France, for a French PhD while working at IPAL in Singapore or in a collaborative way with highly reputable CNRS labs in France. Please get in touch with us to define your project before application in this case.
Previous positions:
2017 Support Team
2017 Master Internship Proposals
Internships hosted by our partners on joint projects:
2017 Post-doc fellowship @BII:
2016 Master Internship Proposals
Internships hosted by our partners on joint projects:
2016 PhD positions
2014 PhD positions
2015 Master internship positions
Internships hosted by our partners on joint projects:
2014 Master internship positions